Rice University students have teamed with a Texas Children's Hospital doctor to help a 5-year-old boy take hold of his future.
His patient, Adriel Rivas, who was born without a left hand, now has a 3D-printed prosthetic that allows him to grip objects.
The project came to Arinze Appio-Riley, a sophomore kinesiology major who leads e-Nable, a Rice club that prints prosthetics for children and adults as part of a global network of volunteers. Appio-Riley and his sister, Rice alumna Chinwe Appio-Riley, co-founded the Rice e-Nable chapter.
The siblings asked Deirdre Hunter, a lecturer at Rice's Oshman Engineering Design Kitchen, to advise the club in 2020. At about the same time, Dr. William Pederson, the head of hand and microsurgery at Texas Children's, was considering a prosthetic for his patient and contacted her.
Hunter said Pederson had heard how quickly 3D-printed prosthetics can be made and how affordable they are, an important factor over time. "As a child grows, you'll have to change the size and dimensions of these prosthetics," she said. "And children can be really rough on them."
The club used Pederson's mold of the boy's limb, which has a partial thumb, to configure the new hand. "We're trying to make sure this prosthetic is comfortable," Appio-Riley said. "At the end of the day, even if it works really well and it's pretty, the client isn't going to use it if it's not comfortable."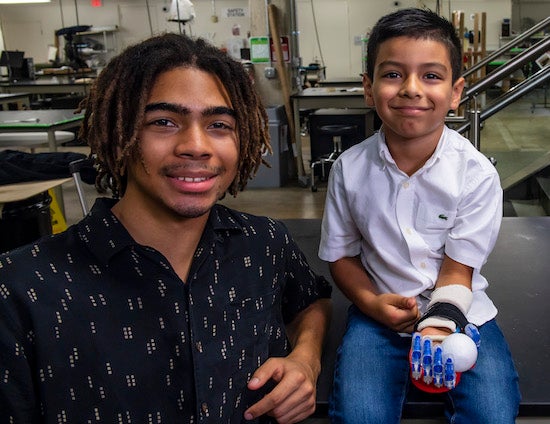 Rivas, he said, can flex his wrist and partial thumb to manipulate tensioner strings attached to the fingers and provide grip. Through several meetings with the boy, Appio-Riley said the team made fine adjustments to the prosthetic and added padding for fit and comfort.
"The amount of fit and tension you can get just by this simple design is pretty nice," he said. "It can pick up a lot of heavier things than you'd imagine: a cup, maybe a newspaper, or a baseball, something our client is looking forward to."
Appio-Riley has recruited a team of students and said Pederson already has more clients interested in e-Nable. "This is a compassionate project, and Rice students are really looking for that," he said.
"One real benefit to having a club-based organization like e-Nable, where the students get to meet with the clients and patients, is that the work isn't always confined to a single semester," Hunter said. "This club is able to work pretty much year-round, so we don't have to tell a client we have to wait until the start of a new school year. These children don't often have that kind of time to wait. They want access to something that could really impact their lives."